Brake Supply Announces New President and Executive Vice President
Brake Supply announced David M. Koch as President and the promotion of Tom Berkley to Executive Vice President to its team of talented professionals.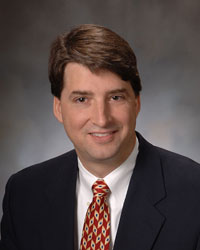 David KochDavid is a member of the fifth generation family leadership and will transition into the role beginning January first. He will lead the company as president and chief executive officer to grow the business of high quality remanufactured exchange components, distributed parts and services.
David brings more than 20 years experience to this position. For the last three years he was vice president of sales for residential HVAC equipment and parts and supplies at Koch Air in Evansville where he helped grow sales by 20 percent. Previously David was president of Comfort Financial Services, a retail financing start up. His other work experiences include branch manager of Koch Air in Indianapolis, IN, product manager of outdoor cooking and manager of operational analysis for Sunbeam Corporation in Delray Beach, FL, analyst of corporate development and planning for Sensormatic Electronics Corp. in Boca Raton, FL.
David has a MBA in Finance from Indiana University and a BS in Mechanical Engineering from Purdue University. In 2010, David earned a Tuck School of Business Leadership Certificate. He currently serves as a board member on the Evansville Industrial Foundation, Evansville Museum, Koch Foundation, Koch Air, South Western Communications, Uniseal and Koch Enterprises. David is married to Sharlet Koch with two young daughters.
Tom BerkleyTom Berkley has been the Vice President of Sales and Marketing at Brake Supply Company since 2000 with responsibility for North American and International sales. Tom was previously the Director of Purchasing at Brake Supply. He attended Western Kentucky University and majored in Corporate Communications. He began his career with Brake Supply in 1986. Tom has been instrumental in helping to grow sales 140 percent at Brake Supply in the 12 years he has been Vice President of Sales and Marketing. Tom also serves on the Board of Directors for Brake Supply, Flanders Electric, and Downard Hydraulics. Tom is married to Amy Berkley, and they have four children.